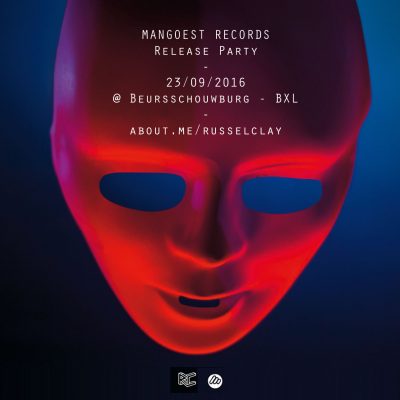 The game is on! 1000 stickers will be dispersed in Belgium with the event info. The people with most original pics with the sticker posted on the event page will rewarded with a FREE entrance and a FREE signed vinyl release from Russel Clay. The stickers will be available at places like Beursschouwburg, vinyl shops and other events or on demand. Be creative and have fun !
——————————————————————————————————————————————
Les jeux sont ouverts! 1000 autocollants seront dispersés en Belgique avec les informations de l'évenement. Les personnes avec les photos les plus originaux de l'autocollant poster sur cette page seront recompenser par une entrée GRATUITE et un vinyl signé GRATUIT de Russel Clay. Les autocollants seront disponible dans les lieux suivant p.e. Beursschouwburg, shop vinyles et autre evenement ou sur demande. Soyez créatif et amusez vous!
——————————————————————————————————————————————
Mangoest Records are proud to present the next release party for the vinyl release of Russel Clay and digital release of Mirror Shards.
 ——————————————————————————————————————————————
22:00 Mirror Shards /USA vs Nordlys /BE
23:00 Russel Clay /BE
00:00 Palsembleu /BE
01:00 Spacid /BE
03:00 The End
 ——————————————————————————————————————————————
Visuals provided by ALEA(s)